Richmond Bridal + Engagement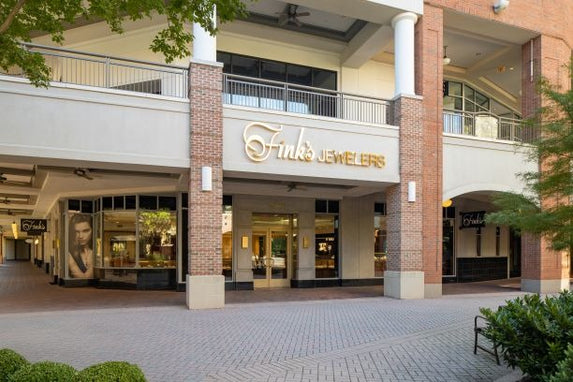 Store Manager
Vicki Robinson
---
Our Fink's Jewelers Richmond location features a large
selection of engagement rings, women's wedding bands, bridal sets, and men's wedding bands. Our jewelry store is located conveniently at the Short Pump Town Center.
Every Fink's Diamond passes strict criteria to meet our Superior
Quality® and Superior Cut® standards. Our diamonds sparkle brighter than others you'll find because we inspect every part of the diamond, even after it's been initially graded, to ensure its cut, light performance, brilliance, and even durability. Also, enjoy guaranteed confidence and guaranteed trade-in benefits with our Lifetime Diamond Guarantee.
You'll only find our selection of engagement rings at Fink's
jewelry store locations, including Fink's Exclusives, Bridal Sets, and our
Studio Collection. Choose the right wedding band to complement your engagement ring with classic band designs, diamond wedding bands, and bridal sets. Fink's also features a selection of gemstone engagement rings and wedding bands featuring rubies, sapphires, and fancy diamonds.
With more than 90 years in the diamond and jewelry industry,
we've created The Studio Collection. This selection of bridal rings is only
available at Fink's Jewelers locations. We control the process of each Studio Collection ring, from sourcing the stones to quality craftsmanship. Fink's Design Studio engagement rings are created at our own North American manufacturing facility and sent directly to our ring stores. With this process, we're able to cut out the middleman and provide you with quality engagement rings at the best prices.
If you're looking for something completely unique, the on-site
jeweler at our Richmond jewelry store also provides ring design services.
Create a custom engagement ring or wedding band that fits your style. Whether you want to use an existing piece of jewelry, a precious heirloom, or to create something from scratch, our jewelers can assist. You'll be involved throughout the entire process of designing the ring, choosing the metals, and selecting the perfect diamond.
Along with our stunning selection of women's wedding rings, you'll find the right wedding band for him at Fink's with our selection of
Triton and Fink's Exclusive men's wedding bands. Choose from men's wedding band styles in tungsten and other alternative metals, two-tone or traditional yellow gold, white gold, and platinum. 
Since 1930, Fink's Jewelers has provided fine jewelry and
watches along with our superior quality service. Family-owned and operated by the fourth generation, we continue to stand behind our traditions of quality, service, and selection.
Whether you are starting your search for the perfect engagement ring or have a specific style picked out, our jewelry experts can help. We're honored that you chose Fink's Jewelers to be part of your love
story. Stop by our Richmond jewelry store or make an appointment and find the perfect engagement ring and wedding bands.